Most days I wake up with a certain excitement... a kind of excitement that is subtly content. I take my time, slowly opening my eyelids, usually to the sight of my beloved dogs snuggled at my feet and chest. Bobby, always under the covers in-between my legs, and Athena curled in a ball, perfectly nuzzled at my side. I get up, attend to A&B's needs, start tidying up our house, all while waiting for the sweet sound of the screaming kettle on the stove. To me there is no better feeling than making slow coffee. You know, the kind of coffee made without a coffee maker, brewing freshly ground beans with nothing but a jar, hot water, and a pour over filter. There's something about it I hope to never get over, and it's the reason I will never stop drinking coffee as long as I breathe. The ritual alone is enough to crave it's warmth. Add that first slurp?? Aw man, I'm a goner.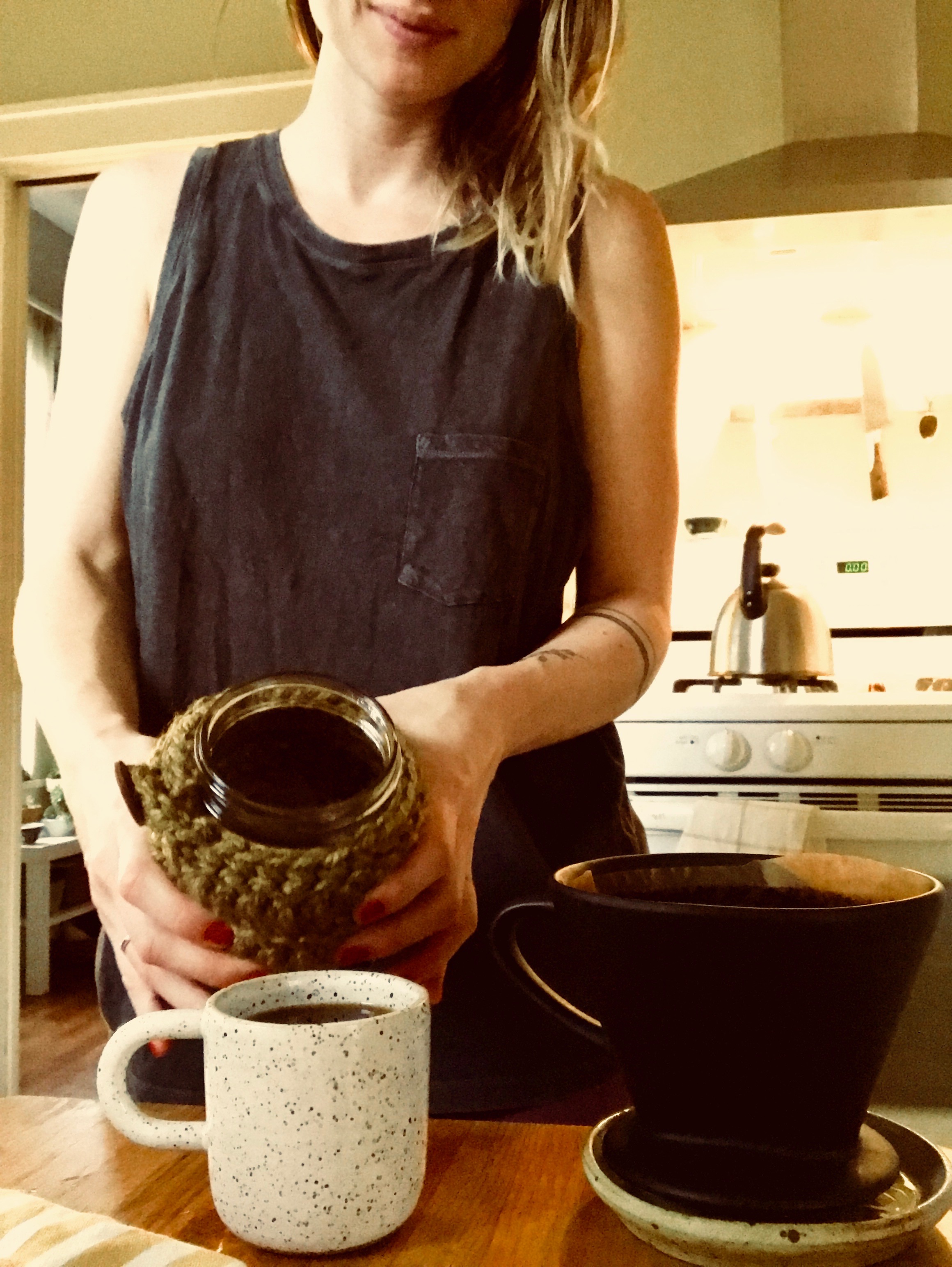 Happiness is seeing beauty in humble places where other people see nothing.
Coffee, however, is not the topic of this entry. It's that little thing that sometimes creeps up when you least expect it. Something so powerful it can even throw my love for coffee out the window. When I wake up in the morning, and not even the sweet sound of the coffee drip can shake my mood, I know it's there. I can tell right from the start that it's going to be a rough day. That thing I can usually avoid, sticks to me like velcro, and I spend the rest of my day trying to de-cling it from my life perspective. The Funk that tries it's best to bury you until it's satisfied.
I do want to point out that I'm not talking about the kind of deep depression that sticks around for weeks or months or years. I, fortunately, do not struggle with that kind of depression, and in no way want to sound as if I can relate to or know how that feels. This is not meant to be offensive, rather an attempt to bring light to something that so many, if not all, people struggle with from time to time. In a world where everyone's happiest moments are being thrown in our face via social media on a daily basis, I think it's important to point out that not every day is our best day. We all go through times of struggle. Times when motivation is scarce, and when things that normally bring you light leave you feeling mediocre at best.
Here's what I've learned over the years about being in that damn Funk...
Recognize it. Accept it. Roll with it.
I've aways been a moody person. (My family can attest to that statement. Whoa baby, my "tweens" were rough. Sorry guys!). It's taken me years... decades even, to learn that I might as well roll with it rather than fight it. I use to spend a Funk Day hating myself for not feeling happy, and then letting my irritability fester until I would inevitably explode at the people I care about most, which in the end would only prolong Funk's existence. But here's the thing, holding onto that shame only magnetizes the feelings you are trying to get rid of in the first place... not to mention damages your relationships. Perhaps the biggest newsflash of this topic: YOU just aren't THAT important. I mean, don't get me wrong, we are ALL important, but your problems, low moments, negative outlook, however, do not make you special. We all have them, its all relative, and there's no point in focusing on yours as if it's the end of the world, because that's just silly. Life is hard for everyone, period. But it's how you choose to live in those moments that will make a difference in your life, and the life of those closest to you.
I'm no expert, but those three steps I mentioned above have improved my life immensely. Recognize, accept, and Roll.
When you recognize that we are humans and are not made to be happy 24/7, it immediately eliminates a layer of guilt. This is normal. Everyone goes through this. I am not alone. Recognizing that you are going to have off days opens up the possibility to get over it in your own time, in your own way, without the pressure of asking yourself, why me?
Accepting that you are human, means you allow yourself to feel all the feels. Not only the happy emotions, but the unsettled, anxious, sad, mad, irritable ones too. When you accept these emotions, you give yourself permission to work through them, rather than try to force them aside, (which let's be real, never works). Acceptance is something we all stride for at one point or another, isn't it? So why is it so hard for us to accept ourselves? And if we don't accept ourselves, how can we expect others to accept us? (whoa, that was deep.)
My favorite step of the three is to simply Roll With It. Lean into it. Listen to what your body and mind need and actually follow through with it. If you need to take a "Mental Health Day" from life, then do it. If you need quality time with loved ones, let them know. If you need to take your frustration out at the gym, by all means, sweat it out. (Oh, how I wish that was my go to de-stresser - I'd be in WAY better shape than I am right now! haha!) Sometimes even eliminating one thing from your daily To-Do list will help minimize the pressure we put on ourselves to always keep our shit in check.
It's okay to NOT do it all. And it's even more okay to NOT have your shit together every damn day. Allow yourself the space to work through the funk, and it will be a lot less scary.
My go to RAR routine includes a lot of alone time (hello, my name is Chelsea and I am an introvert), a good meal, chill tunes, and time to relax my mind. Just the other day, I was in a deep funk, and told my partner, Ryan, that I needed three solid hours of alone time before I would be ready for him to come home for a serious evening snuggle session. There's steps to everything, right? It's all a process.
Oh, and I can't forget evening tea. When that funky feeling digs it's heals into my day, nothing quiets it more than mimicking the routine it straight up stole from me that morning; the precious act of coffee making. Coffee ... tea... they both are magical, right?
In the words of William Morris, "The true secret of happiness lies in taking a genuine interest in all the details of daily life". I saw this quote recently in a fellow Austin Artist's graphic design piece, (follow @katiemadethat to see for yourself) and it completely hit home. Once you, again, begin to see the beauty of everyday things, you know you've won.
You are allowed to be both a masterpiece and a work in progress, simultaneously.